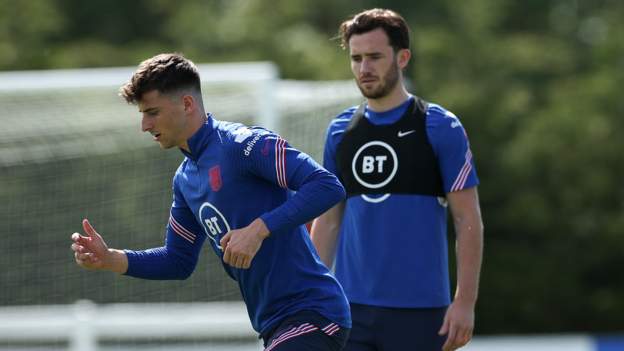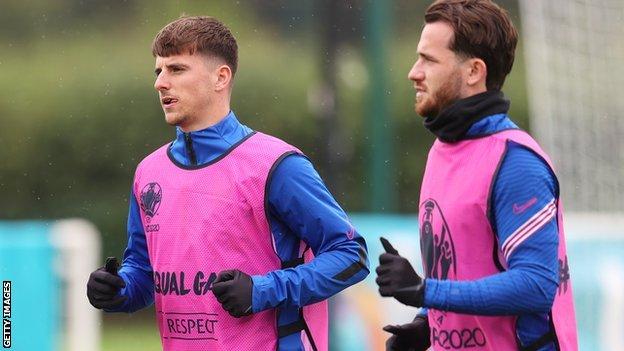 Dates:
11 June-11 July.
Venues:
Amsterdam, Baku, Bucharest, Budapest, Copenhagen, Glasgow, London, Munich, Rome, Seville, St Petersburg.
Coverage:
Live on BBC TV, BBC Radio 5 Live, iPlayer and the BBC Sport website and app.
Click here for more details
England's Ben Chilwell and Mason Mount have to self-isolate as a precaution after coming into close contact with Scotland's Billy Gilmour and could miss Tuesday's game with the Czech Republic.
The pair were seen interacting with Chelsea team-mate Gilmour after Friday's draw with Scotland at Wembley.
Gilmour has since tested positive for Covid-19 and will miss Scotland's final group game against Croatia on Tuesday.
"I can't say it isn't disruptive," said England boss Gareth Southgate.
Asked whether the pair would be available for Tuesday's game, Southgate added: "We don't know at the moment.
"There's obviously got to be quite a doubt but there's still a lot of discussions and investigations going on behind the scenes, so at the moment they're isolating and we just have to find out over the last 12 hours or so.
"We don't really know at this point whether they might be OK for tomorrow or they could be out for 10 days. There's a lot of unknowns, frankly, at this time."
Chilwell and Mount were seen hugging and speaking to Gilmour after the final whistle of Friday's game.
Public Health England (PHE) guidance states that someone could be considered a close contact and might have to self-isolate if they had a face-to-face conversation within one metre or had been within two metres of someone for more than 15 minutes who tested positive for Covid-19.
The Scottish FA currently says there are no close contacts identified from inside their camp, with 25 players available to face Croatia on Tuesday.
The entire England squad had lateral flow tests on Monday afternoon and all were negative.
In a statement, the FA said it would hold further talks with PHE before taking further action.
"The pair will be kept away from the rest of the England players and wider support team, pending further discussions with PHE," read the statement.
"We will continue to follow all Covid-19 protocols and the Uefa testing regime, while remaining in close contact with PHE."
More to follow.
Source:www.bbc.co.uk